Tired of fiddling with the handle or latch to close your pocket door?
The Jexis Cavity Release (aka. Pocket Door EZ-Closer) patented technology allows you to quickly release the pocket door from its cavity with one push. Once you use the Pocket Door EZ-Closer you'll be wondering why someone didn't invent this years ago.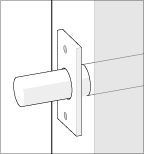 Molded (glass filled nylon casing and plunger) - $44.00 each plus shipping.
* The Molded model pushed the door out the same distance in factory tests
&nbsp
EZ-Closer online checkout

Order for you home...
See installation instructions before purchasing to ensure
the EZ‑Closer can be installed with your style of door.
Maximum 15 units per order; all fields are required unless otherwise stated
I want to order

shipped to the following address...
Enter your shipping and billing information below.
Optional for some countries
Please enter a valid email address
Cancel order
We accept

Oops. There are still some errors on the form! Please correct any issues and try again.

Need to buy in bulk?
Discounts are also available for customers purchasing more than 15 EZ-Closers for their own use.
Telephone

+1

(949) 468-0178

Email
Read more about the EZ-Closer features...
Fits most door styles
It is easy to install
Has a 5 year manufacturer's warranty
Featured on Hometime
Tested on doors weighing up to 170 lbs
Is flush fitting
Has been durability tested
And requires no maintenance
Testimonials...
"The EZ Closer is amazing. I bought one for my business, and after using it only for a few days bought 4 more so we could have one on all our pocket doors. They always work perfectly - and save the time and hassle of having to use a door edge pull instead. When we recently put a pocket door in our home - I of course ordered one for that as well. I can't imagine any pocket door without one."
M. A., Irvine, CA
"I recently added the EZ Closer to my pocket door. Installation is easy. Just don't drill through the side of the door. The door pops out two or three inches. That makes it easy to grasp the door and pull it closed. No more fooling with that pull in the handle."
"Thanks again for your great service."
B. G., Orange, CA
"Have installed on doors and very pleased."
L. B., Sydney, Australia
"We love that thing!"
C. O., Sherwood, Oregon
"Love the product. Every pocket door should have one!"
S. T. - architect, UK
"Fantastic product. Installed them in our double pocket doors. Makes closing the doors so easy."
P. B., Hamilton, New Zealand